Education Characteristics
Education Curriculum
Students of both universities will be taking the same curriculum for the same number of hours, totaling 6 years.
Subjects jointly conducted in both universities will be taken in 3 patterns: the "Distance Lecture System," the "Faculty-move type," and "Student-move type."
Distance Lecture System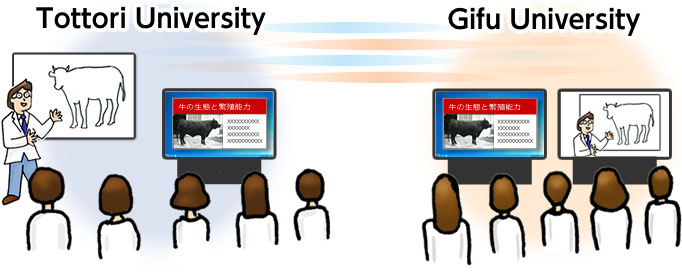 Faculty move-type / Student move-type
Subjects that are not jointly conducted will be taken at your own university, but the details (syllabus) will be the same.
1st to 4th year
Some subjects may be taken at the other university campus that is not the student's registered domicile.
5th to 6th year
Some of the advanced education subjects will be conducted at the other university campus that is not the student's registered domicile.
Education Equipment
Distance Education System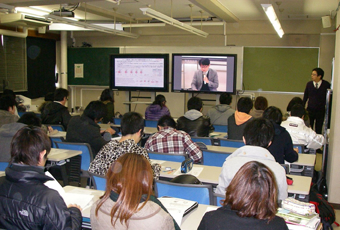 Some classes will be held using the Distance Lecture System. In this system, classes will be held at the same time in both universities without having faculty members and students move between classes. The photo shows students of Gifu University taking lectures at Tottori University.
Laboratory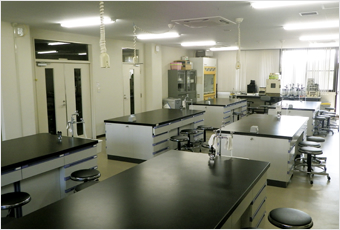 A hands-on program is where students learn through real- life animals based on the things learned from the classroom lectures. In the laboratory shown in this photo, hands-on programs relating to vital functions such as biochemistry, physiology, and pharmacology etc. are being held.
Lecture Room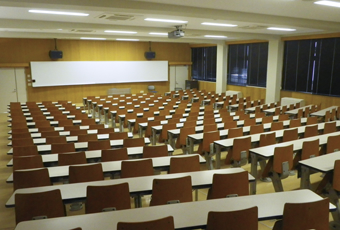 You may imagine a university lecture room like this. Lectures for professional subjects at the Joint Department of Veterinary Medicine are held in smaller lecture rooms than shown in the photo.
Animal Medical Center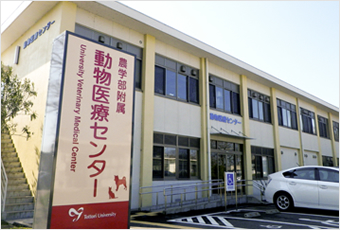 This facility is where we provide advanced and cutting-edge veterinary medicine service to visiting animals as well as offer clinical education training to students, helping them to become excellent veterinarians in the future.
Off-Campus Training Facility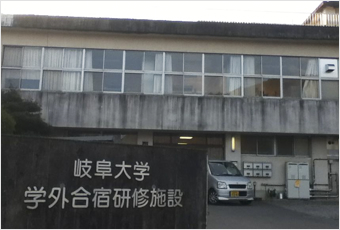 Exchange meetings at off-campus training facilities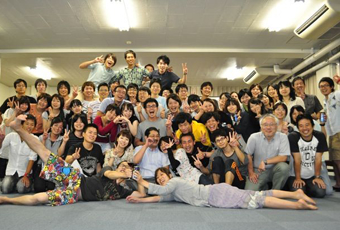 In the student-move type lecture/hands-on program, students will move to the other university to attend the lectures. During these classes, accommodations and transportation for the group will be arranged. The photo shows the training facility used in lectures at Gifu University. On the last day of classes, students have a get-together party to strengthen their friendships.